Welcome to Atle Big Band
The anniversary concert in January 2019: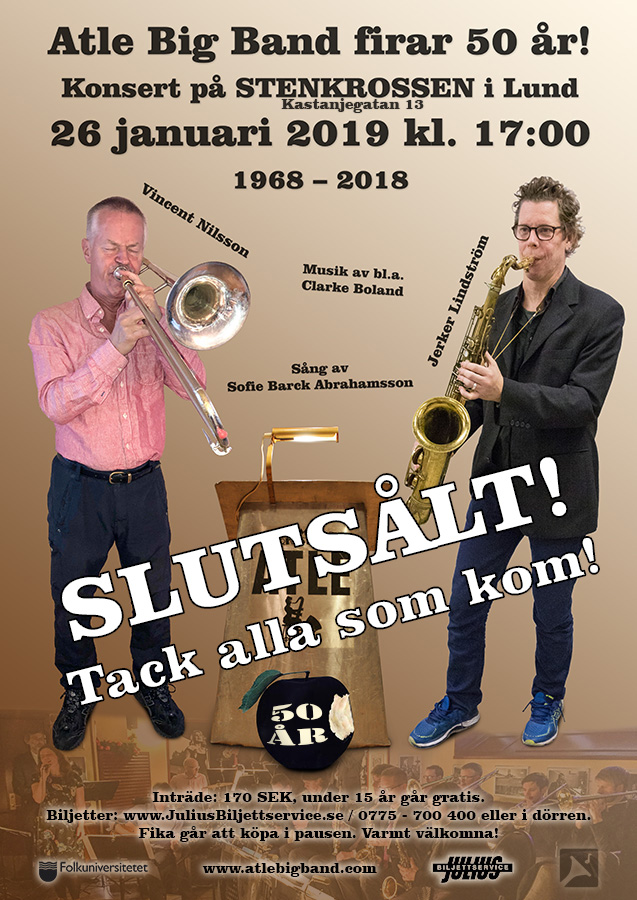 The history of Atle Big Band starts 1968 in Lund, Sweden. A group of university students formed the band and started playing jazz Monday nights at a restaurant called Chrougen in Lund. Today Atle Big Band consists of 18 enthusiastic musicians that really like playing Big Band jazz music.

The repertoire has changed over the years from the traditional swing music of the 30's and 40's to more contemporary jazz music including Afro Cuban jazz and salsa. At present the band plays all kinds of modern jazz arrangements for big bands.

In the last couple of years Atle Big Band has been playing regularly in restaurants and clubs in the Lund and Malmö area, but also frequently at many of the Lund University student festivities.

Together with the local jazz club Plektrum, Atle Big Band has arranged several concerts at Mejeriet, featuring Swedish jazz artists such as Svante Thuresson and Rigmor Gustafsson.

You'll find how to book us under "CONTACT". We are also present at Facebook. Welcome!